David Krippendorff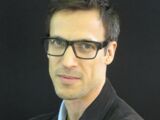 David Krippendorff is a US/German interdisciplinary artist and filmmaker. Currently based in Berlin, he grew up in Rome, Italy, and studied art at the University of Fine Arts (UdK) in Berlin, Germany, where he graduated with a Masters degree in 1997.
Kontakt
Tel.: 0049(0)170 82 68677
Zu der künstlerischen Arbeit von David Krippendorff
Cultural contradiction and dislocation shaped Krippendorff's experience early on. His artistic practice inquires into this state of being a "permanent foreigner" and explores resulting questions of home, national and cultural identity, and belonging.
Krippendorff's earlier work focused on Hollywood films and investigated underlying ideologies in iconic movies such as The Wizard of Oz, Gilda, Gone With the Wind, and West Side Story. His more recent work has shifted away from found material towards the creation of a personal visual vocabulary based on original footage, but still using products of our collective culture as a departure point and inspiration. His references go from Verdi's Aida to Brecht's Three Penny Opera, or re-filming the opening credits of a classic Douglas Sirk movie. These materials become in Krippondorff's work a vehicle for addressing current issues of cultural identity, loss, and social pressures to conform.